Archive for
August, 2011
0
Salman's little sister was spotted having a good time with cricketer Yuvraj Singh in a newly opened nightclub at a south Delhi five star on Sunday

The cricketer might have felt awkward bumping into his ex-girlfriend Kim Sharma at a recent fashion event, but Yuvraj Singh is definitely not shying away from making new friends. In fact, the Indian cricketer has become good friends with Salman Khan's little sister Arpita. The two new friends in Bollywood were spotted having a good time at a Delhi five star recently.

A source informed Mumbai Mirror, "Yuvraj and Arpita were seen together at a five star hotel in Chanakyapuri, New Delhi on Sunday evening. The hotel has a new club, which opened recently. Yuvraj and Arpita spent a lot of time in the club that day. They were not accompanied by others."

Following the tradition of linkups between cricketers and actresses, Yuvraj Singh had once dated Kim Sharma. Subsequently, he was linked up with Deepika Padukone, model Aanchal Kumar, Ameesha Patel and Neha Dhupia.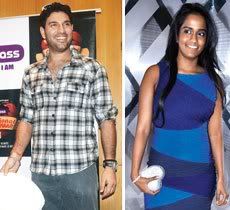 Yuvi And Arpita

It seemed only logical that he would hence buy a house in Mumbai. After settling in the city of the film stars in 2009, Yuvraj became quite close to the Khans. His presence at every Khan family function or private screening made for a great photo-op for most shutterbugs in the city. A blossoming friendship between Yuvraj and the little daughter of the Khan family became inevitable.

A very close friend of Arpita told us, "Arpita knows Yuvraj for some time now. They are very close friends. Yes, they were together at the five star hotel in south Delhi on Sunday. They were there for quite sometime, actually."

When asked whether the friendship was platonic, Arpita's friend, raising her voice, retorted, "Big deal! Can't two friends go out together to have a meal?"

Arpita, who seems to have found a dear friend in the cricketer, was earlier linked up with Boney and Mona Kapoor's son Arjun.

The cricketer, when contacted, however chose to deny having ever gone to the said hotel with Arpita. "This is absolutely baseless and I request everyone to stop spreading rumours about me. Arpita is a friend and I know her for many years now. As a matter of fact, I wasn't at the hotel at all lately. There is not an iota of truth in what you are trying to write," said Yuvraj Singh. Arpita remained unavailable for comment.