Sonam Kapoor says she's a big foodie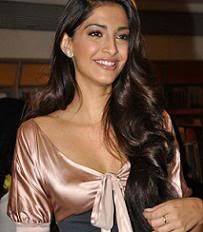 Bollywood actress Sonam Kapoor, who is known in the industry for her fashion sense more than her acting in the films, we admire Sonam's style, sense of clothing, her amazing personality and charming attitude. Although she is not doing at her film career but Daughter of Anil Kapoor, yet manages to grab the attention of people from all over the world.
Sonam Kapoor may be one of the fittest actresses in the industry but she does not believe in starving herself. Sonam can't resist herself when it comes to food. She claims her life revolves around food.
"My whole life revolves around food. While having breakfast I think what I should have for lunch while having lunch I think what I should eat for dinner," Sonam told IANS during the unveiling of "Wassup! Andheri", a three-day art and entertainment festival in the Andheri suburb.
This glamorous actress, who belongs to a Punjabi family, loves feeding people. She said: "I am a Punjabi and the whole point is I love feeding people and I love getting fed."
Sonam had to lose oodles of weight before she starred in Sanjay Leela Bhansli's "Saawariyan".
She is, however, giving a tough time to her dietician.
"My dietician has been working on me for quite some time and she has been unsuccessful," the 26-year-old said.